Website
Your website is your digital marketing hub. All roads lead back to your website. As such, having a great website key for your digital marketing. All great websites excel at:
Having fresh, tailored content
Your website is where you host your content. You have content in the form of website and landing pages, your blog, video, and any other content you may produce. We'll get more into content later as it relates to content marketing. If you're eager to get a jump on content marketing, then you can head over to that part of the guide.
When it comes to your website content here are a few pointers:
First and most importantly, think about your website visitors and ideal patients. You're writing your content for these potential patients and current patients so you want to write with your audience in mind.
We recommend having at a bare minimum, these 5 pages on your chiropractic website
Organize it in an easy to follow way. This applies to your website menu, footer, and on-page copy. You don't want to have a cluttered, hard to read top menu. Take some time to optimize your website menu and navigation because this is how people will navigate your site. Here are 11 Tips to Improve Your Website Menu
Lastly, make sure that it's optimized for search. You can read more about this in our Search Engine Optimization section of this guide.
Need some more pointers for chiropractic website copyrighting? Check out these 7 best practices.
Being visually appealing
Ever go to a really ugly website and think to yourself, "this is a really ugly website?" Well, don't be one of those websites. You don't have to push the limits of design either. You can have a visually appealing website that isn't cutting edge. You just don't want to have an eyesore for your site. Working with a web design firm will help you create a site that is easy on the eyes.
Here are some pointers for making sure your content and design are helping, not hurting, your website:
Make sure your text is easy to read on every page. This means picking good fonts and sizes. It also means making sure your text stands out from the background. We've seen a lot of websites that have hard to read text with image overlays, bad color and poor font choices.
Part of website design that is often overlooked, but can be a valuable asset is your website footer. It's worth taking the time to make sure that your footer is optimized
Make sure your site uses photography and ideally use custom, not stock, photography. Check out this blog post on How to Select Photography for Your New Chiropractic Website
Being technically up-to-date
Another very important part of your website is that it needs to be technically optimized to meet today's standards for:
Mobile responsiveness
Fast page load speed
HTTPS
Accessibility menu
Keeping up with the technical side of things provides a good user experience, which is very important to Google in helping them determine the search rankings. If your site has a slow page load speed or isn't mobile-friendly, it's undoubtedly going to hurt your rankings.
Want to optimize your chiropractic website to get more patients? Check out the guide below to help you increase your website conversions.
Download the guide ↓↓
"I wanted a website that didn't seem like every other. The company that hosted my website previously was great at posting content that didn't have anything to do with my practice. Canned content that they posted to my website and hundreds of others that they hosted.

Chirohosting has been a breath of fresh air. I told them what I wanted and they have been very helpful in helping me get the content I wanted on my website. Super helpful, very informative, available when I have a question, very personal service.

Our representative Erica is the best! I told her what I was looking to do and she has helped me to achieve it. I've learned so much about how the web works from her.

I highly recommend that you call and check them out for your website hosting."
Dr. Robert Richart Chiropractor
Directory Listings
There are countless online directories (also known as citations). These directory sites are important to your digital marketing strategy because potential patients will use them to find chiropractors in their area. You'll want to make sure you appear in the most trafficked ones to increase your chances of being found.
At ChiroHosting, we like to focus on around 70 of the largest directories. These directories are sites like Yelp, Google My Business, Yellow Pages, and more. Not only is it important that your practice appears in the big directories, but it's also essential that your data is consistent across the directories because if it isn't, then you can be docked in the search results.
You'll want to standardize your NAP data (Name, Address, Phone) and make sure it appears exactly the same across all directories. It can take a lot of time to manually go through, review, and update dozens of directories, but it's a very important task keeping your NAP up-to-date and should be taken seriously. That's why we offer a listing management service to automatically keep your directory listings up to date. This especially helps when you move your practice location or change practice information like the name or phone number.
Google My Business
Last but not least is your Google My Business listing. This is perhaps the most important listing out there since the majority of people use Google to find local chiropractors. There are a few ways that you can optimize your Google My Business listing. We've highlighted some here:
Don't have a Google My Business listing yet? Set one up here.
Want to see how your listings are doing? Take a minute to
scan your listings.
Online Reviews
Online reviews are the digital equivalent of a mix of word of mouth marketing, testimonials, and validation. Potential patients not only have the ability to find your practice through online reviews but they also can use these reviews to decide whether or not you're the right chiropractor for them.
Good reviews can go a long way in helping you get new patients, but bad reviews can have a major negative impact on your practice. Reviews are an important part of your chiropractic online marketing. Check out these 10 tips to get more reviews.
You'll need an online review management strategy to protect yourself from bad reviews and promote the good ones.
It's important to encourage happy patients to leave good reviews, but it's equally important to handle the bad reviews. Often times a chiropractor can deal with a negative review by replying back in a thoughtful manner. You might even be able to redeem that negative review and save an unhappy patient. Regardless having a strategy in place to manage your reviews is key. You'll want to figure out how to promote good reviews and how to manage the bad ones.
Need help managing your online reviews? Check out our Online Review Building. It's helped countless clients with their online review management, but don't take our word for it, see what a client has to say:
The review feature on my website saved me from a bad review from an overzealous person who called my secretary and inquired about insurance info..the person was calling for his father to find out if his insurance is covered and how much out of pocket he would have contributed (copay). Apparently, my secretary told him the standard amount for what he had but we'll know for sure when he brings his insurance card in. The person who called wrote a review after the call describing us as shady and very unscrupulous. I read the review and called the person to fully explain How his father's insurance is covered for chiropractic and he was happy that I fully explained Everything and his father made an appointment. The review never posted.
Dr. William Palmer Chiropractor
Content Marketing
Content marketing is an essential part of your digital marketing strategy. It's the fuel that drives your marketing engine. You'll have to decide what type of content is best for your practice when it comes to being able to produce or source it and what your ideal patients are interested in consuming.
Types of chiropractic marketing content
Your website and the copy on its pages We already reviewed your website as the first pillar, but you can check out this blog post to get some pointers on the 7 Best Practices for Chiropractic Website Copywriting.

Your blog Your blog is part of your website, but it allows you to build up your content library and a subscriber list. Your blog is a great place to showcase your patients, answer questions, discuss a chiropractic topic of interest, and much more. Check out these three blogs posts to get more ideas for your own blog:
Want blog content, but don't have time to write it yourself? We have a low-cost solution where we create custom blog posts for you. Email us at support@chirohosting.com to learn more.
Case studies Are a great way to go into detail about how chiropractic helped a specific patient. You can create your case studies in multiple formats: blog posts, videos, website pages, and printable assets for brochures. There is no reason that you can't have one case study in all four formats mentioned above.
Having a few case studies will help provide validation for your services. If a potential patient is considering your practice, a case study might be the tipping point for them to book their first appointment with you.
Articles or news clips If your chiropractic practice has appeared in any publications or news outlets, then this is a great type of content to share as long as it's positive.
Videos Videos are a content format that allows you to communicate information in an auditory and visual way. Some website visitors prefer to view a video versus read a blog, Words Versus Video: Behaviors of Chiropractic Website Readers.
Here are some Chiropractors Who Are Crushing It On YouTube to help give you some ideas and inspiration for how you might be able to create video content for your own practice.
Read these ideas on how to get video for your chiropractic practice.
Having diversified content is going to help you appeal to different people who consume content in different ways. We would recommend creating less, higher quality than more, lower-quality content because higher quality content is going to be more shareworthy and engaging. Here are some pointers on how to create better content for chiropractic marketing.
Create content for your patients
You're making content for your patients and potential patients. Always let that fact be your guiding light when you create new content. When you create content for your patients, we recommend thinking about how your patients would search. Here are a couple of ways your potential patients might search:
The first one is a no brainer. They might just search for a chiropractor so you'll want to make sure you rank in local search.
This one is a little trickier. Your potential patients might not know they need a chiropractor yet to help them with their problems and they might just be searching for symptoms like sore lower back, whiplash, sports injuries, and more.
You'll want to make sure your content addresses both of these searches. For the direct chiropractor search, just weave this throughout your website and make sure it's optimized for local search. For the types of symptoms, make sure you have content that speaks to this in your blog, on your website, and in your services.
Here is a simple exercise you can do to help put your patient at the forefront of your content marketing efforts. Recreate the details for this buyer persona to be like what you'd want to see in an ideal patient for your practice.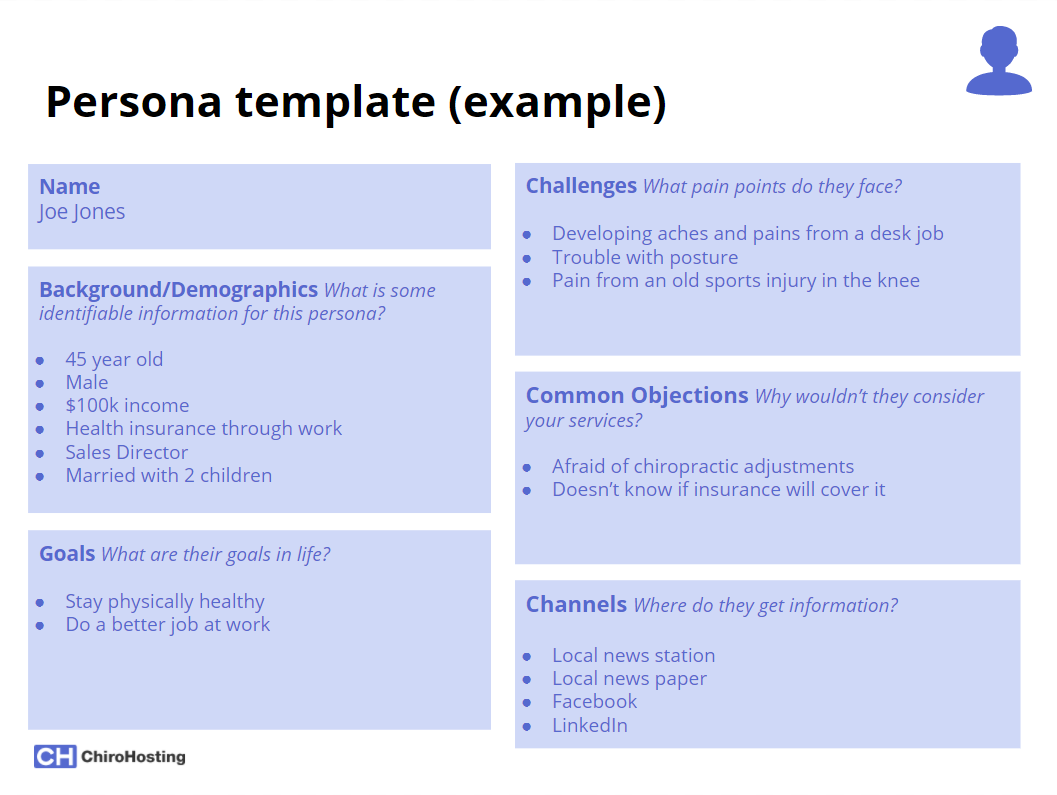 Content for SEO
Content is king when it comes to Search Engine Optimization (SEO). Google ranks websites based on various engagement metrics like frequency of new content, time on page, number of visits, bounce rate, and social shares. Creating regular, high-quality content will help your users and website visitors stay engaged which will in turn lead to higher rankings and more traffic to your site.
If you'd like to produce more original content, but don't have the time, then you might want to check out one of our marketing plans, which all come with monthly blog posts, or look into our ChiroNexus Video Service to get some chiropractic video content for your site.
Search Engine Optimization
Improving your search rankings is essential for digital marketing success. Organic traffic is one of the largest channels of traffic for chiropractors. If you aren't on the first page of Google, then you are lost beyond the top ten search results. As a result, the chances that you're going to be found by potential patients searching for a chiropractor go way down.
That's where Search Engine Optimization (SEO) comes into play. SEO is the practice of fine-tuning your website and your content to help you rank better in search results. As a chiropractor, you'll want to strategize your rankings around local search. You're not going to be trying to get patients from another county, out-of-state, or abroad. You'll want to get local patients who are within an hour's drive of your practice.
Pick your keywords
One of the first steps to establishing your chiropractic SEO strategy is to pick your keywords. There are two categories of keywords:
Short tail keywords
Are, you guessed it, shorter search queries that tend to be broader and have more search volume. Here are some examples:
chiropractor
neck pain
back pain
Short tail keywords are great keywords to use throughout your website, in your URLs, in your page titles, headers, and text.
Long-tail keywords
Are longer, more specific, and get less search volume. Here are some examples of longtail keywords:
Best chiropractor in Olympia
How can I help fix my bad posture?
Why does my lower back hurt
Long-tail keywords are great to write about on specific pages or to explore in-depth in a blog post.
You'll want to have a keyword strategy that focuses on both types of keywords. Do some keyword research to see what keywords you want to rank for and pursue.
Then make a list of those keywords. You might want to start small, let's say less than 10 keywords. Next, you'll want to set up keyword tracking and SEO reporting to help you gauge how you're performing for those keywords. If you're not ranking for some of them, then you might want to revisit your content strategy and website to include those keywords, and their synonyms, more frequently, but in a natural way.
Another benefit of setting up keyword reporting is that you can get more insight into other words that you're ranking well for that you might not have thought about before.
Optimize your website structure
Another area that you have control over that will help with SEO is your website structure, which is the more technical side. You can work to improve your website in a number of ways to make it more friendly to search engines and website visitors, but here are a few of the main ones:
Page titles and title tags
Title tags help Google and your patients understand what's on a page on your website and can improve click-through-rates in Google search. A title tag is a line of code on your web page that doesn't actually show up on your web page; that's probably why it oftentimes gets ignored.
It would be worthwhile to do an audit of your page titles and title tags and make sure that each page has one and that they reflect the content on the page and a keyword that you want to go after. Read more about title tags and your search ranking.
URLs
Your URLs are another part of your website that is ripe for improvement. You can improve your URLs in a few ways:
Make sure your URLs have a logical, nested structure. For example, if you have an about us and contact page that appear in your top level menu, then these pages should have URLs like:

www.yourpractice.com/about-us

and

www.yourpractice.com/contact

. You can see that these URLs are top-level so they come right after your main domain. The URL is also short and descriptive of the content on that page.
Now, let's say you have a page about Dr. Jones listed under the about us section. You would want this page to nest under that page and you would reflect it in a URL like www.yourpractice.com/about-us/dr-jones.
If you did your page title and title tags audit, then you might have gone through and adjusted the page titles and title tags for different pages of your site. You'll also want to make sure that you adjust your URLs to reflect those changes.
You want your URLs to be logically structured, include keywords when possible, and to keep them descriptive but as short as you can.
Headers
Your website pages have something called headers. In HTML speak, these headers go from an <h1> all the way down to a <h6>. These used to be more important for SEO than they are today, but they are still important for your website visitors. They help provide structure and flow to your website pages and highlight what your visitors will be reading about in a particular section. If you aren't using headers, you should be. And if you are using headers, take some time and audit them.
Here is a great article in Search Engine Journal on everything you need to know about How to Use Header Tags: SEO Best Practices.
Meta Description
Moz defines meta description as an HTML attribute that provides a brief summary of a web page. Search engines such as Google often display the meta description in search results, which can influence click-through rates. Each one of your website pages has a meta description. It's a best practice to make sure that your meta descriptions are filled out for every page and that they are descriptive of what content is on the page, but not too long-winded.
Image Titles and Alt Tags
Your image titles and alt tags are other areas you can optimize for SEO. Your image titles are displayed as pop-ups if a user hovers over an image. Whereas your image alt texts will appear on a page whenever the image can not be displayed. This is super helpful for accessibility purposes for some users who might be using screen readers because they are blind or visually impaired. The screen readers will let these users know what the image is by reading the alt tag. Finally, Google also places weight on what alt text you use to help determine rankings. It's not a bad idea to weave your keywords into your image alt tags where appropriate.
Page Speed
Your page speed is how long it takes to fully display content on a specific page. Google looks at site, and page, speed in its algorithms. Meaning that you will be viewed favorably with a faster load speed and you will be penalized for a slower one. Not only does Google factor in your page speed, but so do your website visitors. If your site doesn't load in a timely manner, then many of your website visitors will exit your site - this leads to a higher bounce rate.
You can check your page speed with Google's PageSpeed Insights tool. If you're looking to improve your page speed, you can try a number of different technical fixes like enabling compression, minifying code, reducing redirects, optimizing images, improving server response time, and more.
If you can make good tweaks to any number of those items and then come back to review your rankings, the chances are you will see a positive boost.
Are you interested in trying to manage your own SEO? Check out this blog: DIY Chiropractic SEO to get some more details. Or would you rather have someone manage your SEO for you? If that's the case, then give us a call at 1-800-295-3346.
Social Media
Social media is another important piece of your digital marketing. As a chiropractor, if you're not using social media, you're missing out on potential patients.
It's a good idea to keep up a social media presence for a few reasons: it helps people know your practice is alive and thriving, it can increase engagement, it can direct traffic to your website, and it can lead to new patients.
Social media is a great way to enhance your digital marketing efforts. Especially, if you're producing high quality, engaging, and shareable chiropractic content. If you share high-quality content on social media, then chances are you might get some likes, comments, and shares (also known as engagement to learn more about social media key terms check out this blog post).
Increasing engagement is good because it will increase the number of impressions on your content. Your follower's followers will see your content, which will up your chances of gaining new followers and patients.
If you host the content on your site and your social posts point people back to your website, then you're also boosting website traffic, which helps you rank better in the organic results.
Some chiropractic social media pointers
If we had to sum up our chiropractic social media pointers in a shortlist, then this would be it.
1. Make sure your practice has a Facebook page
A lot of potential patients use Facebook these days. It's the largest social media network out there, so if you're going to pick a network pick Facebook. Make sure your practice has a Facebook page so that your future patients have another avenue of finding you.
2. Post regularly
It's not just enough to have a Facebook page. You'll want to make sure you post regularly. We recommend once per month at the very least, but ideally, you would be posting a few times per week.
3. Set goals
You're on social media for a reason. Set some goals to help you see the return. Your goals could range from the number of followers to likes on a post or to new patients acquired via social media.
4. Plan ahead
Planning will help you achieve your goals. If your goal is to get 3 new patients from Facebook next month. Then plan a social media campaign to help you reach your goal. Plan out the offer, the posts, and the schedule.
5. Measure performance
Did you get those 3 patients? You want to measure performance because what gets measured gets managed. If you're doing all of the work to set goals, post regularly, and plan ahead, but you're not measuring, then you're not running the best social media campaigns that you can.
Go further with our Chiropractic Social Media Marketing Guide
If you want to go even deeper on chiropractic social media marketing, we've put together a guide that you can download and read up on. Click on the image below to download the guide.
The guide goes into detail about:
Key social media terms
Platform descriptions
Persona templates
Goal setting templates
Ideas for content creation and curation
Want to do more with social media, but don't have too much time to create content or schedule posts? Check out our Automated Chiropractic Social Media product. You'll get chiropractic social media posts daily to your Facebook, Twitter and Google My Business profiles that point traffic back to your website. And best part is, you don't even have to lift a finger.
See what our clients have to say about Automated Chiropractic Social Media
I love this product so much! We have a very busy practice and can't take the time to post to Facebook daily. With this product, we don't have to do anything. Articles are automatically posted to our practice Facebook page for us. It allows us to keep in touch with our patients, generates conversations with them, and keeps them informed. Thank you so much for keeping us up to date and connected with our patients.
Stacey Block Block Family Chiropractic
Email Marketing
Email marketing is an important part of your digital marketing strategy. Email is one of the oldest digital marketing techniques, but it is affordable and has proven results. You can explore different types of chiropractic email marketing campaigns like:
Newsletters
Nurturing
Promotions
Operational
Client Communication
Email marketing is a good way to communicate with current patients and offer them special promotions or offers that might be an upsell, to warm up leads who might not be ready to book an appointment yet, to send out operational or transactional emails like appointment reminders and receipts, and much more.
One of the simplest ways to start building your list is to start an email newsletter and offer a chance for people to subscribe to your website and at your practice. We can help you get started with our Chiropractic Email Newsletter, but we do not offer a complete email marketing service.
Email marketing pointers
We've narrowed it down to a few key pointers when it comes to your email marketing efforts:
1. Determine your chiropractic email marketing strategy.
First things first. What's your email marketing strategy going to be? Here are a handful of strategies that chiropractors use:
Communicate with current patients only
Reactivate inactive patients by encouraging patients who haven't had an appointment with your practice in a while to schedule one
Warm-up cold leads. Maybe someone filled out a form for a new appointment, but never scheduled or showed up.
Nurture a blog subscriber list with blog and content updates
Strengthen relationships by sending out birthday emails
Or any combination of strategies because you don't just have to pick one
Regardless, whatever you choose to do with your email marketing strategy will dictate what sort of goals you set and how you should select your email marketing provider, so it's important to establish your email marketing strategy early.
2. Write your emails to meet your goals.
Whatever strategy you picked in step one, you'll need to set goals to back it up. Maybe you wanted to reactive inactive patients who haven't booked an appointment in a while, then you'll need to set a goal for how many you want to reactivate.
Then, you'll have to create the emails to help you get to that goal. You'll want to focus on the following areas to tailor them to what you're trying to achieve:
Subject line - You might want to A/B test two subject lines to see which one performs better. But if your goal is reactivation, you can try subject lines like:

Come back we miss you
Half off of your next chiropractic appointment

Sender - If your practice has multiple doctors, then you'll want to make sure that the sender is the patient's primary chiropractor. You could also try sending from the practice or a receptionist to see if it impacts performance.
Email content - Finally, the meat, you'll want to optimize your email content to meet your goals. HTML vs rich text? Long vs short? You decide.
3. Pick an email marketing service provider that can meet your needs.
There are many different email marketing service providers out there. They all have slightly different offerings and pricing. You'll have to do your research to see which one best meets your email marketing needs, but here is a list you can look into:
Paid Advertising
Paid advertising is a great way to supplement your digital marketing efforts. It can help you get to the top of the search results for a price, it can get you in front of people who don't follow your social media accounts, increase your reach, and it can up your chances of getting new patients if done right.
You can run many different types of ads in this day and age, but we advise getting started with these:
Google Ads
Through Google ads, you can run a variety of chiropractic advertising campaigns. We recommend starting with the following campaigns:
Facebook
Facebook is another great way to reach potential patients. Here are a few advertising campaigns that you can run on the social media giant:
New Patient Special - run a promotion with a new patient special for your area
Remarketing Campaign - for people who have visited your website
Paid advertising pointers
Paid advertising is our final digital marketing focus area in this guide. It's definitely an important part of a comprehensive chiropractic digital marketing strategy, but it's not required. It's also one that can run up a big bill in a short period of time. Here are our pointers when it comes to chiropractic paid advertising.
1. Start small
No need to break the bank with paid advertising. We recommend starting small and setting a modest budget for a trial period of 1-3 months.
2. Set goals
You'll want to set goals from the get-go. Most likely you'll be running your advertising to get new patients. So you might want to start with the following goal:
$XX cost per new patient.
This goal is the dollar amount spent in order to get a new patient from advertising and not just a form fill or conversion. This is someone who books and actually holds their appointment.
Say you spend $1000 on advertising for 3 months and you get 4 patients from the effort. Your cost per new patient would be $1000/4 or $250 per patient.
You can reduce your cost per patient in a few ways, by increasing your click-through and conversion rates or by increasing your quality score in Google which lowers your CPC.
3. Measure and tweak
So let's say your 3-month trial is up and you spent $1000 to get 4 patients. Now, it's time to tweak your targeting parameters, offer, ad copy, landing pages, and other parameters to see if you can outperform your past performance. Maybe your new goal is to spend $200 in the next month and get a new patient. Whatever it is make sure you set your goal above your previous benchmark, but make it attainable.
Then, make sure you make all the appropriate changes to your different ad campaign components to help you reach your new goal.
4. Keep iterating
Keep updating and changing your ad campaigns until you find a formula that you're happy with and a cost per new patient acquisition that makes sense for your bottom line. And if it stops working and your new patient acquisition costs rise, then start changing it up again.